5 ARBOR IDEAS FOR SOON-TO-BE NEWLYWEDS
Posted on Tue October 12, 2021 in
Weddings
.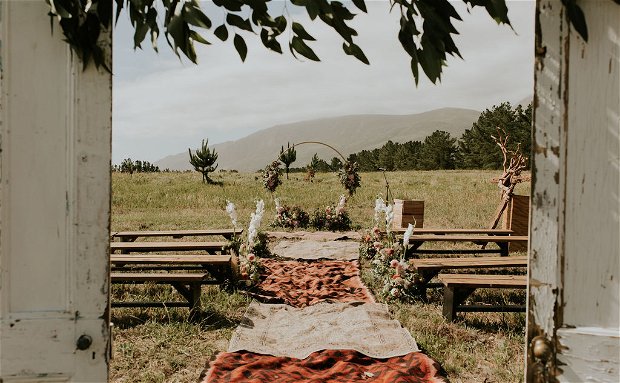 Are you planning on having an outdoor wedding? An arbor can easily be the cherry on the cake for your wedding ceremony. Coming in different shapes, sizes and styles all to suit your theme, an arbor can make your special moment at the end of the aisle even more memorable!
1. This circular arbor, decorated with floral arrangements is perfect for wanting to keep things chic with a touch of country. We love the detail of the classic rustic doors leading to the arbor on the open field with the natural beauty Cherry Glamping offers.
Photographer: Chelsey Selby
If natural tones are more your style, eucalyptus and pampas grass is your go-to this wedding season.
Photographer: Eileen Laubscher
2. This classic arch makes the perfect photograph backdrop. Easily made with wood, netting, shades of green and brown leaves, this is the ideal arbor for a forest wedding at Cherry Glamping.
Photographer: @vividbluestudio
3. The rectangular arbor. If you're into keeping things classy and elegant, this arbor decorated with big leafy plants is your match. Open landscape, forest or indoors- rectangular arbors suit all sceneries at Cherry Glamping.
Photographer: Charlene Schreuder
4. Are you having a Boho Styled wedding and looking for a décor piece to tie your theme together? A crocheted arbor can do just the job, keeping it simple yet beautiful.
Photographer: @wearecharlieray
5. Trendy yet timeless, the geometric shape decorated with roses creates the perfect romantic backdrop.
Feel free to enquire about using our venue as the backdrop to your beautiful beginning. Free venue when all our tents are booked out for your wedding celebration!