Destination Intimate Elopement
Posted on Tue July 14, 2020 in
Weddings
.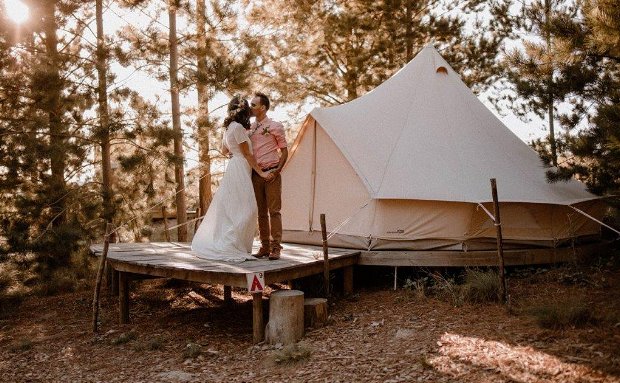 Micro-Weddings are the new trend of 2020 as we revisit the wedding ceremony during challenging and unknown times.

And so we find ourselves halfway through 2020 and all those planning their weddings for this year have had their lives turned upside down. Back in February, we didn't know what was coming. March came upon us and suddenly we were thrust into lockdown with little time to think, change plans or reassess our lives, careers, health, nevermind our wedding plans.  Brides all over the world started cancelling their weddings, which gave birth to the hashtag #postponedontcancel.  Like many 2020 brides, being in limbo with a decision on whether to get married this year or next, even whether you'll have the option to get married during 2020 proved to be stressful and pushed many brides out of their comfort zone.
Now, as we move through the different phases, brides are having to work through a myriad of legislations and gazettes, trying to figure out how many guests are considered safe, and even legal, can they travel, what's considered safe distancing, how to keep your venue sanitized, and even, can you serve bubbly for your wedding toast? Nevermind the threat that South Africa might move back up the levels back to level 4 or even 5 after level 3.5 was just announced.
It's now July and you still want to marry your soul mate.  You still want your family and friends to bear witness to your solemn vows. You still want your father to walk you down the aisle. You still want your first dance as your favourite people in the whole world watch you.
One of the options you now have is to elope with a small group of friends and family.  Seize the opportunity to be a little crazy, and plan that intimate wedding, where you throw convention out of the window and create a magical wedding without all the trims!  Something more than just a photoshoot with just the two of you. Our glamping sites are the perfect canvas for your creativity.  You can add as many trims as you want, or you can use what nature has provided with the forest and fields as your backdrop. And the zebra and springbok as part of your guest list. 
At Cherry Glamping, all our wedding venues are free of charge when accommodation is booked and everything is self-catered, so you can bring in your own caterers and drinks (including alcohol) and create a wedding weekend that doesn't break the bank but that ticks all the boxes of fun, happiness, joyful and a beautiful start to your many years of marriage.  

Not only is the wedding venue free, but you get exclusive rights to the campsites for the entire duration of your wedding, so you know that it's only your guests on the property celebrating with you.  You get the pick of two great camps, as well as the option to add more guests with our mobile tents, that we can add and create an additional tent town for your group.  
All tents are luxurious, with wooden floors, fully made beds, and lamps and access to a fully functional kitchen for those wanting to make themselves a cup of coffee as they prepare for the ceremony.  
And our tents are perfectly positioned so that there's no need to worry about breaking any social distancing rules.  Each tent is several metres from each other, with wooden decks leading to most, making accessibility easy for all your guests.  There are quiet tents, out of the way tents for those wanting some peace, which is ideal too for those with small kids who need to tuck them in early. 
And with a wedding weekend, you can celebrate in 'shifts' and celebrate with your elderly family members over brunch and then party with your friends later in the afternoon and well into the evening.  That way, even during these unusual times, you can safely say that you are keeping your more vulnerable guests safe and protected.
And because no one has to drive, you can be happy with the knowledge that your friends are safely tucked up in their tents once the evening is over.  The most that can happen is that they get into the wrong tent! 

So give your wedding a rethink and look at Cherry Glamping as an option for your intimate, fun, authentic location for the start of your life together as Mr & Mrs, Mrs & Mrs or even Mr & Mr!