'Micro' weddings are the new trend
Posted on Mon July 27, 2020 in
Weddings
.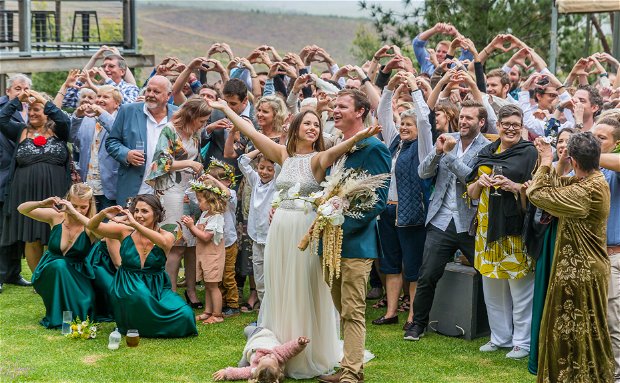 A 'micro' wedding is typically a more intimate affair, one with less than 50 guests, often immediate family and very close friends.
SO WHAT IS A MICRO WEDDING?
Are you one of one the brides who set your wedding date pre-Covid? You had figured things out and felt good about how your plans were unfolding. A small wedding wasn't even on your radar.  And then suddenly, the world changed and your plans were stopped dead in their tracks.  Countless couples are having to navigate through these new waters without a compass.  For many, the excitement has been overtaken by disappointment and anxiety because their wedding might be nothing like they had dreamed of.

But there is hope!  Enter the micro wedding.  They have always been there, always been an option, but now they are gaining momentum and have skyrocketed in popularity. And for some couples, their only option. 
So what is a micro wedding?
It's basically an elopement and reception combined with less than 50 guests.  It's a celebration that follows a quick ceremony and a more casual and relaxed reception, it's similar to a traditional wedding, but on a smaller, more manageable scale. Gone are all the extras and obligations of a big wedding, gone is the pressure to invite your co-workers, extended family and acquaintances and gone are the big bills and a huge budget. Your Wedding is stripped down to the very essence of marriage – the love between two humans and their commitment to one other. 

A scaled-back wedding not only saves you money and time but gives you the flexibility to get married despite the pandemic without too much fuss or planning.  And this is where Cherry Glamping comes in, our venue is not only free when you book one of our camps, together with all the open space and fresh air, and not mention the beautiful backdrop of the Elgin Valley, you and your guests will experience the extra feeling of freedom.  And with nature all around, your canvas can be dressed as much or as little as your heart desires.
Our two camps have 12 and 21 tents each, with additional tents to top up each camp to increase capacity. Our camps are surrounded by trees and open farmlands, dotted with fire pits and hammocks. Your wedding becomes an all-weekend affair, where you can dictate the pace and speed of your wedding.  We have great nooks and crannies where you and your bridal party can get ready, relaxing together, sharing laughs and those last few hours of singledom.  And your groom has his pick of the campground for his pre-wedding preparations with his groomsmen. 

As you get ready, your guests relax under the trees, by the pools or just kuiering together by the firepits, watching the wind in the trees and the birds flying by.  And then as your moment comes, together you join your souls, with your friends and family gathered, with the zebra and springbok casually meandering by.  Making this moment one authentic and real, true in every sense of the word. 

Some of our brides chose to have a light lunch after the ceremony, followed by a party at night – you have your pick of two camp sights and one enclosed venue, where the sides open up to the cool Elgin breeze.  You and your guests can safely party away, knowing that your bed is just a tent or two away from where you are. 
And after the night of celebration, breakfast becomes a jovial affair, casually eaten together on the grass verges and picnic blankets, on wooden steps and park benches, even in hammocks and on garden chairs.  The morning after the night before creates more memories, more laughter and more great authentic moments that you'll treasure for years to come. 
So if you're looking for the perfect location for your micro wedding, we've got the perfect place for you.  With our list of preferred suppliers at your fingertips, or your own that you handpick, or even a DIY that you and your family and friends create, the options are endless. Drop us an email to find out more.
Special thanks to Frikkie & Kirra for giving us permission to share their pictures of their wonderful wedding, held on 22-02-20 (what a wonderful anniversary date!) and for these kind words - 'Cherry Glamping was a dream come true. We couldn't have been more happy with this venue. Richard the owner accommodated us with all our needs and helped wherever he could. The only problem we had is that we couldn't stay there forever.   Our guest to this day still talk about how stunning Cherry Glamping is definitely a wow factor to any occasion We will certainly be visiting in the future.'
This magnificent wedding was coordinated by the bride and groom themselves, with their decor items from Something Borrowed Events and Four Every Event Grabouw. The photographer who captured all these memories forever was Joffree Hyman, and the music that kept everyone on their feet was brought to life by DJ Dranged, Feel Good Inc, LSDean and Satori. A unique twist to the coffee on offer was a Coffee Bar that provided dessert milkshakes and Don Pedro's, all created by Pie in the Sky Coffee